CHEMICAL DOSING UNIT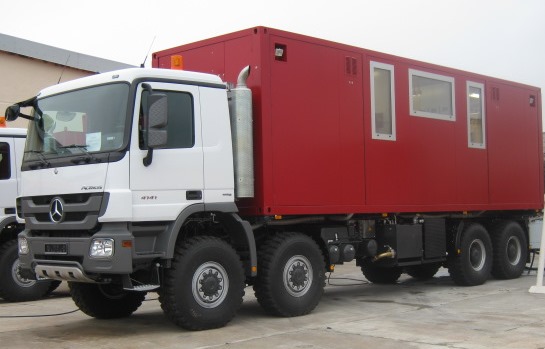 The Chemical Unit is a truck, trailer ore skid mounted unit for the storing and dosing of chemicals on the well site to the Blender, Hydration Unit or any other mixing device. ACC-3 is available on liquid chemical system. This control unit operates separately from the unit ore will be controlled by the ACT-WS Data Acquisition unit.The design guaranties units according to the road conditions of the final country. That includes axle weight, dimensions and other. On and off-road conditions are included.
A chemical unit can be complete with centrifugal pump and data acquisition system for use as Acid Blender. All mounted chemical pumps are working independently computer controlled for accurate monitoring of additives at various rates. Six chemical pumps plus flow meters in connection with an automatic chemical control system guarantee most wanted accuracy during work in the oilfield.
Standard Features:
Truck, trailer ore skid mounted unit

Silent Versions

Of Shore Units

Chemical System includes:

Up to 6 fluid additive systems including tank with up to 2000 liter

Up to 6 Hose reels with necessary Hose diameter and 50 m long all chemical and temperature resistant

Centrifugal Pump with suction and discharge Manifold

Data Acquisition system

Laboratory with equipment

PTO Driven Generator

Complete electrical driven

Pneumatic Flood Light Tower

Electrical Heating system for enclosure
ACT WS Blender Units will be supplied as 30, 50, 60, 90, 120 bbl/min units.