COILED TUBING QUAD BOP & COMBI BOP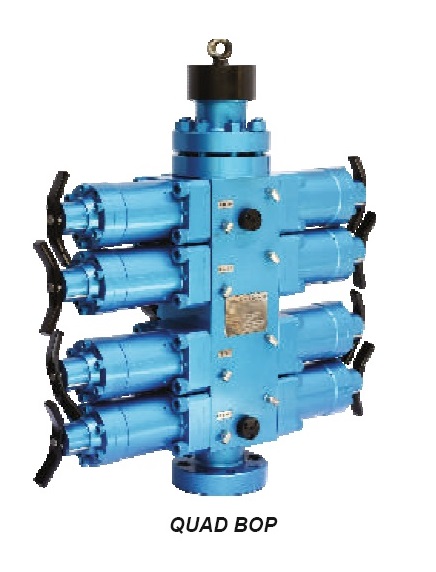 FEATURES
This Quad BOP is designed primarily for use with coiled tubing operations. Modifications can be made for use in wireline operations. Contact the factory regarding the necessary modifications for any non-standard uses.
Quad BOP's are available with internal or external hydraulics in bore sizes from 2-9/16″ to 6-3/8″ and working pressures from 5,000 PSI to 15,000 PSI for standard or sour service. Coiled tubing size ranges from 0.75" to 3.50".
Blind Rams: Designed to seal the pressure from below with nothing between the rams.
Shear Rams: Designed to shear coiled tubing of max. dia. of 2.88" leaving a clean end for circulating fluids or easy fishing. It shears the coiled tubing and seals the well in one operation.
Slip Rams: Designed as two-way grippers and to support a string of coiled tubing or prevent the coiled tubing from stripping out due to well pressure. Specially designed slip inserts are available for coiled tubing.
Pipe Rams: Designed to centralize and seal around the coiled tubing.
Manual Locking Actuators: Each ram actuator is equipped with a manual locking handle. After the rams are hydraulically closed, they can be locked in closed position with the manual handle. Should the hydraulics fail, the rams can be manually closed. The hydraulic must be re-established and used to re-open the rams.
Ram Position Indicators: Designed to give positive indication of ram position.
Equalizing Valves: Designed to prevent seal damage when opening either the blind or pipe rams with differential pressure present.
Options:
 Single Combi BOP available in combination of: Shear – Seal or Pipe-slip

 Dual Combi BOP available in combination of: Shear – Seal or Pipe-slip