GREASE & HYDRAULIC CONTROL UNIT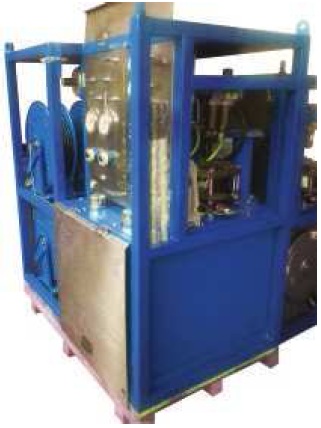 Description: Grease & Hydraulic Control Unit Module is designed to operate pressure control equipment up to 10,000 PSI working pressure. They can operate BOPs, tool catcher, tool trap, stuffing box and line wiper.
General: An air driven hydraulic pump is used to power all hydraulic functions. Back-up hand pumps are provided for the event of an air/hydraulic pump failure. The back-up hand pump has a maximum working pressure of 3,000 PSI. The units also have two independent grease injection circuits to supply grease to BOPs and the grease head.
 These have a crossover valve allowing one pump to drive either grease injection line. All hoses are mounted on spring loaded reels & hence there is no need for manual operation to wind hoses on the reels.
 A panel is designed to layout the controls on a picture format so that the operator can more easily visualize the state of the equipment. The module is equipped with a Haskel  AW25 air operated hydraulic pump for the BOPs, tool trap, tool catcher, line wiper and stuffing box. This pump can produce a fluid pressure of 2,500 psi with 100 PSI air.One accumulator with a capacity of 9.1 liters is fitted as a back-up for air powered pump. They are normally pre- charged to 1,500 PSI nitrogen. Two hydraulic hand pumps are provided. The back-up hand pump has a maximum working pressure of 3,000 PSI while the grease ARO 100:1 pump is rated to 10,000 PSI.
Dimensions & Weight: Length: 1.45 m    Height: 1.55 m     Width: 0.79 m
Capacity of pump first grease tank: 187 liters Capacity of pump second grease tank: 187 liters Capacity  of  hydraulic  oil  tank:  20  liters Approx. weight: 750 kgs.
Third Party Inspection /Certification: Unit will be certified by third party BV, DNV, ABS, Lloyds, Vetco Tuboscope, etc. as per the requirements of the customer.
Painting: All steel materials are sandblasted to Sa 2 ½ standard and coated using an inorganic zinc primer. All aluminum materials are primed and painted to customer's supplied color code.
Documentation: Operations & the maintenance manuals are provided in a hard copy and a soft copy (in CD format) in English.