PRS – 01 SPOOLING UNIT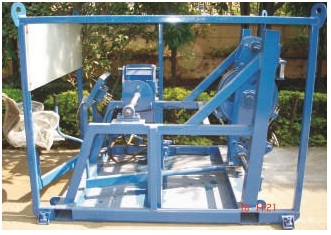 Features: The Spooling Unit is designed with the ultimate flexibility, for a stand alone operation & with transportable weight.
Dimension & Weight:   Length = 2.00 m (6.56 FT)
Width = 1.50 m (4.92 FT) Height = 1.59 m (5.24 FT)
General: The spooling unit is constructed with steel tubing.
The unit has four lifting points for crane handling, integral forklift pockets for ground handling & four anchoring points for floor fixing. This spooling unit is used for drawing old wireline from a wireline unit drum and for spooling new wireline on the wireline unit drum under tension.
Operation of the spooler is done by hydraulic source from open-loop hydraulic power pack. The unit has a hydraulically driven arbour on which the new drum (shipping drum) is placed. The unit is supplied with wire tensioning device.
The hydraulically driven spooler arbour will accept all standard wire shipping drums from small slickline 0.092" to large 0.125" wire drums upto 40" diameter. Hydraulic tension during spooling is controlled from a control panel mounted on the side of the unit.
Tensioning Unit (TRS – 01): The wire tension assembly traverses freely on sealed linear bearing and tensioning is done by two brake bands acting on the circumference of the tensioning wheel. Braking is controlled by means of a hand wheel in front of the tensioning head.
A spring loaded pressure wheel is positioned at the top of the tensioner wheel to hold wire in place. A set of guide rollers are set in front of the head which function to keep the tensioner head in line with the wire.
Application: Slickline / Braided line
Operator Control Panel: The operator console is built with stainless steel machine engraved English letters coded and is equipped with:
Operator seat, safety glass, counter meter, three positions, four way directional control valve @ 3,000 PSI, hydraulic system pressure gauge 0-3,000 PSI, pressure relief valve @ 3,000 PSI & joystick for moving the tensioning wheel.
Third Party Inspection /Certification: Unit will be certified by third party BV, DNV, ABS, Lloyds, Vetco Tuboscope etc as per the requirement of the customer.
Painting: All steel materials are sandblasted to Sa 2 ½ standard, inorganic zinc primer coated and all aluminum materials are primed, painted to customer supplied color code.
Signs & Decals: Wherever applicable signs & decals required will be placed. Unit daily checklist starting procedure
Safety instructions
All hydraulic connections will be tagged with proper identification SWL of the unit
Documentation: Operations & the maintenance manuals are provided in a hard copy and a soft copy (in CD format) in English.