SURFACE FLOW CONTROLS ACV SERIES ADJUSTABLE CHOKE VALVES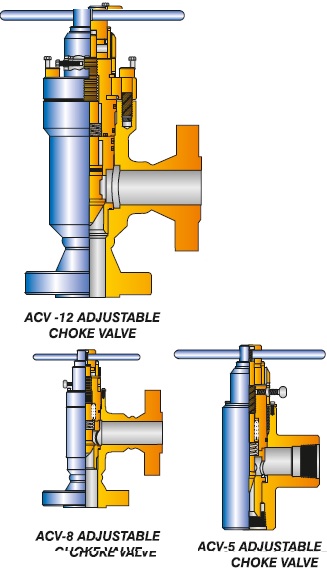 ACT ACV Adjustable Choke Valves have wide applications in oil, gas and water service. Three body sizes are available to allow proper matching of the choke to the expected flow rate. Maximum working pressure of up to 5000 psi are standard on ACV-8 and ACV-12 Valves, with higher pressures available on ACV-5 Valves. Easily read indicator ring calibrated in sixty-fourths of an inch is designed to provide accurate flow control. Bubble tight seal of stem is provided by a spring-loaded Teflon packing design.
Valve and seat replacement without removal of the valve body from the line is accomplished by simply removing the bonnet, which requires no special tools. The seat can then be removed by hand.
All valves in this series may be equipped with either an electric or pneumatic actuator to meet installation requirements.
ACV-12 Series Valves feature a 3-inch maximum port and a semi balanced stem design to reduce the torque required to open the valve when high pressure differentials exist.
ACV-8 Series Valves features a 2-inch maximum port and offer an optional positive choke seat for high differential pressures.
ACV-5 Series Valves features an 1 1/4-inch maximum port size.
All valves in this series are available with API or ANSI flanges or with socket weld, butt weld or threaded connections.
Body Style
Maximum Working Pressure (psi)
4-Inch
6-Inch
in. A&B
in. C
Approx.Wt. in Lbs.
Inches A&B
Inches C
Approx.Wt. in Lbs.

Series 600 RF

1480

8.50

26.69

299

11.00

29.19

371

Series 600 RJ

1480

8.56

26.75

299

11.06

29.25

371

Series 900 RF

2220

9.00

27.19

327

12.00

30.19

445

Series 900 RJ

2220

9.06

27.25

327

12.06

30.25

445

Series 1500 RF

3701

10.75

28.94

363

13.87

32.06

553

Series 1500 RJ

3705

10.81

29.00

363

14.00

32.19

553

Series 2500 RF

5000

13.25

31.44

517

18.00

36.19

981

Series 2500 RJ

5000

13.44

31.63

517

16.25

34.44

981

API 2000

2000

8.56

26.75

299

11.06

29.25

371

API 3000

3000

9.06

27.25

327

11.25

29.44

445

API 5000

5000

10.81

29.00

363

12.63

30.82

553
ACV-8 DIMENSIONAL DATA
Available with 1, 1-1/2 or 2-inch trim
Body Style
Maximum Working Pressure (psi)
2 1/2-Inch
3-Inch
4-Inch
in. A&B
in. C
Approx.Wt. in Lbs
in. A&B
in. C
Approx.Wt. in Lbs
in. A&B
in. C
Approx.Wt. in Lbs

Threaded

3000

5.00

15.19

60

5.00

15.19

70

5.44

15.63

80

Socket Weld

3600

5.00

15.19

60

5.00

15.19

70

5.44

15.63

80

Butt Weld 160

5000

5.00

15.19

60

5.00

15.19

70

5.44

15.63

80

Series 600 RF

1480

6.5

16.69

88

7.00

17.19

106

8.50

18.69

154

Series 600 RJ

1480

6.56

16.75

88

7.07

17.26

106

8.56

18.75

154

Series 900 RF

2220

8.25

18.44

132

7.50

17.69

129

9.00

19.19

182

Series 900 RJ

2220

8.31

18.50

132

7.57

17.76

128

9.06

19.25

182

Series 1500 RF

3705

8.25

18.44

132

9.25

19.44

166

10.36

20.55

218

Series 1500 RJ

3705

8.31

18.50

132

9.32

19.51

166

10.46

21.65

218

Series 2500 RF

5000

10.00

20.19

164

11.37

21.56

258

13.25

23.44

372

Series 2500 RJ

5000

10.13

20.32

164

11.50

21.69

258

13.40

23.59

372

API 2000

2000

6.56

16.75

88

7.06

17.25

106

8.56

18.75

154

API 3000

3000

8.31

18.50

132

7.57

17.76

128

9.06

19.25

182

API 5000

5000

8.31

18.50

132

9.31

19.50

166

10.81

21.00

218
ACV-5 DIMENSIONAL DATA
Available with 3/4, 1 or 1 1/4-inch trim
Body Style
Maximum Working Pressure (psi)
2-Inch
2-1/2 Inch
3-Inch
in. 2   2 1/2  6
in. A&B
in. C
Approx. Wt. in Lbs.
in. A&B
in. C
Approx. Wt. in Lbs.
in. A&B
in. C
Approx. Wt. in Lbs.

Threaded

5000 3000

5.00

13.44

35

5.00

13.44

40

5.00

13.44

45

Socket Weld

3600

5.00

13.44

35

5.00

13.44

40

5.00

13.44

45

Butt Weld 160

6000

4.50

12.94

35

5.00

13.44

40

5.00

13.44

45

Butt Weld XXH

10000

4.50

12.94

35

5.00

13.44

40

5.00

13.44

45

Series 600 RF

1480

6.38

14.82

55

6.50

14.94

60

7.00

15.44

65

Series 600 RJ

1480

6.44

14.88

55

6.56

15.00

60

7.07

15.51

65

Series 900 RF

2220

7.25

15.68

83

8.25

16.69

88

7.50

15.74

93

Series 900 RJ

2220

7.31

15.75

83

8.31

16.75

88

9.32

17.76

93

Series 1500 RF

3705

7.25

15.69

83

8.25

16.69

88

9.25

17.69

93

Series 1500 RJ

3705

7.31

15.75

83

8.31

16.75

88

9.32

17.76

93

Series 2500 RF

5000

8.75

17.19

119

10.00

18.44

144

11.31

19.75

233

Series 2500 RJ

5000

8.94

17.38

119

10.13

18.57

144

11.50

19.94

233

API 2000

2000

6.44

14.88

55

6.56

15.00

60

7.06

15.50

65

API 3000

3000

7.31

15.75

83

8.31

16.75

88

7.57

16.01

93

API 5000

5000

7.31

15.75

83

8.31

16.75

88

9.31

17.75

93

API 10000

10000

6.92

15.36

119

7.83

16.27

144

8.86

17.30

233