SURFACE FLOW CONTROLS MOTOR VALVES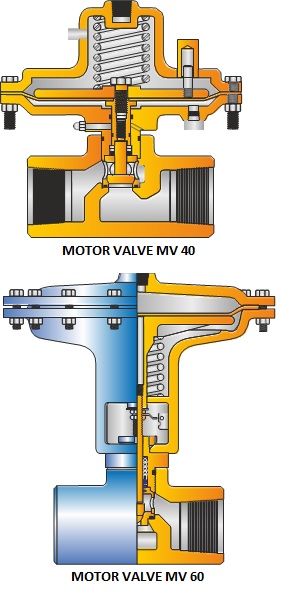 ACT offers two basic motor valve designs, the MV-40 and the MV-60. Both models are pneumatically operated valves for use in time cycle controllers, dump valves for oil and gas separators, pressure vessels, and storage tanks: and various wellhead and process control applications.
The MV-40 is an economical motor valve designed for applications where the maximum working pressure does not exceed 3000 pounds per square inch. The MV-60 is specified for service up to 4,000 pounds per square inch working pressure. Both models are available in 1 in. or 2 in. body size, angle or through configuration with welded, flanged, or threaded ends.
The standard trim material is stainless steel but optional hard chrome or tungsten carbide may be ordered for more severe service. Four sizes of trim are available -1/4 in., 1/2 in., 3/4 in, or 1 in. Both MV-60 and the MV•40 may be operated as either pressure open or pressure close. The valve, seat and packing may be replaced without removing the body from the line or without disassembling the diaphragm section.
ENGINEERING DATA FOR MV SERIES MOTOR VALVES
 Type
 Assembly  Number
Maximum Working Pressure
 Connecting Thread (in - TPI)
Trim Size in.
 Area (Sq. in.)
Diaphragm
Maximum Woking Pressure (psi)
Inlet
Outlet
MV-60
610
4,000
2-11.1/2 LP
2-11.1/2 LP
1/4-1
72
60
MV-40
650
3,000
2-11.1/2 LP
2-11.1/2 LP
1/4-1
54
60