TYPICAL WELLHEAD & X-MAS TREE ASSEMBLIES
A wellhead is used at the surface of an oil & gas well that provides the structural and pressure containing interface for the drilling and production equipment. Christmas Tree is an assembly of valves, spool, pressure gauges and chokes fitted to the wellhead of a completed well to control production. ACT offers these in a wide range of sizes and configurations, such as low – or high – pressure capacity.
ACT offers the complete range for low cost applications field proven surface wellheads, gate valves, actuators, casing heads, tubing hangers, spools and adapters, bushing and annulus seal, tees and crosses, tree caps and miscellaneous equipment required for surface well completions from 2,000 PSI to 15,000 PSI with maximum flexibility and user convenience. Installation training and field support is available. ACT also offer ESP Wellhead systems and unitized Wellheads and X-Mas Trees and repair and services.

WEAR BUSHING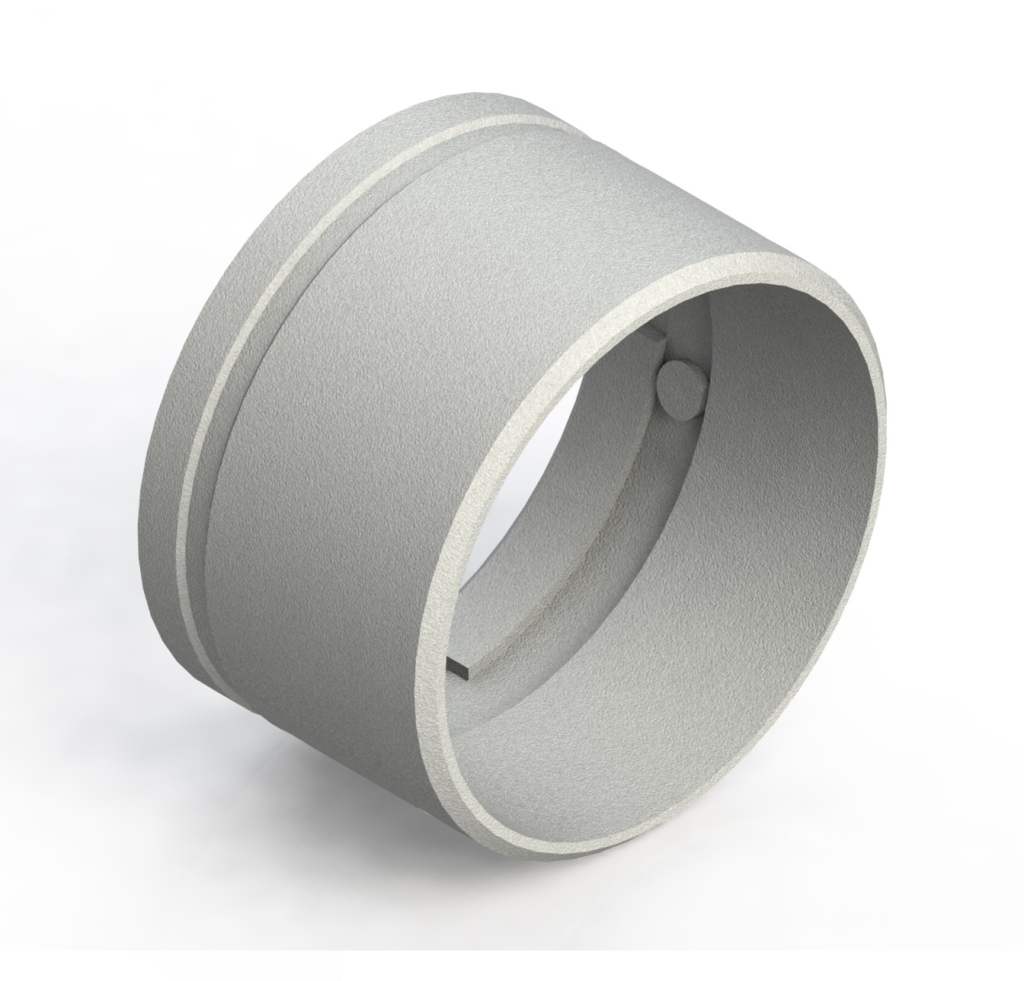 These Retrievable Wear Bushings protect the inner containers of Casing Head Bodies or Spools during drilling operations. When Wear Bushings are used, either hold down screws in the top flange of the Casing Head Body or hold down flanges with hold down screws are required.
BACK PRESSURE VALVE
ACT type 'H' Back Pressure Valve are used extensively in ACT Hangers to safety seal off well pressure during removal of the blowout preventer and installation of christmas tree. Fluid may be circulated down the tubing through the Back Pressure Valve with assurance of automatic reclosure against the tubing hanger is to be pressure tested.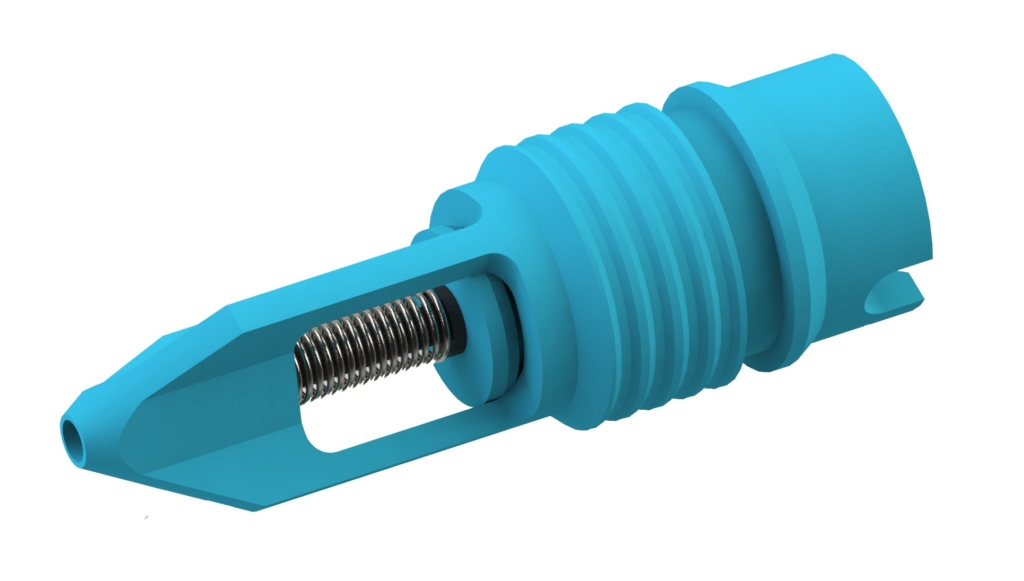 LUBRICATOR

ACT's Lubricators which connect directly to the top of an X-Mas tree above the master valve are available in various sizes and end connections and pressure ratings varying from 5,000 to 20,000 PSI both for standard and sour service. Operating a Lubricator is by far the most dangerous aspect of well head service work. Therefore extreme caution has to be exercised while operating this tool.
VALVE REMOVAL PLUGS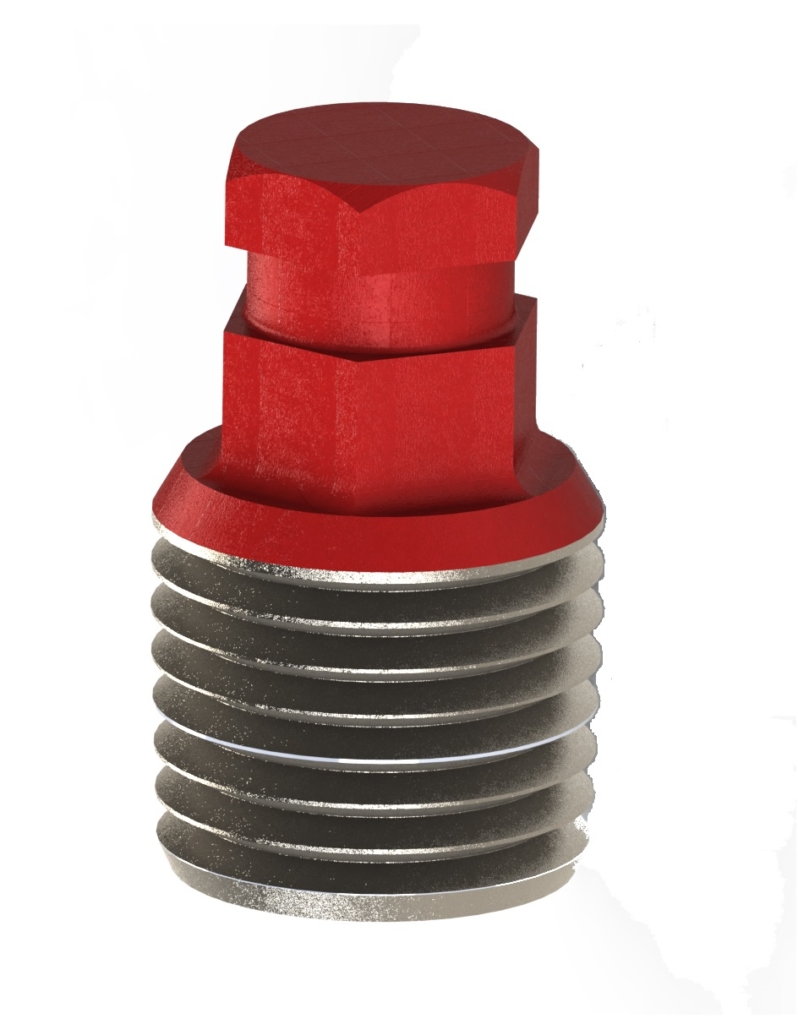 All flanged or studded outlets on ACT's casing heads, casing spools and tubing heads are threaded for valve removal plugs. All plugs have standard API Line Pipe Threads and are small enough to pass thru the valve to be removed. The plug is installed when the valve is to be removed.
ACT X-MAS TREE CAP
Tree cap is a top connector, which is used on the top of the X-Mas Tree. Tree cap's main function is to provide access to the X-Mas Tree bore. Tree Cap consists of a Flanged body, Blanking Plug, Hammer Nut as principal parts and Circlip & O-ring as secondary parts. Blanking Plug has a provision to accommodate pressure gauge to ascertain inside pressure of the well. The inside of the Flanged body has API-UP TBG thread as lift thread.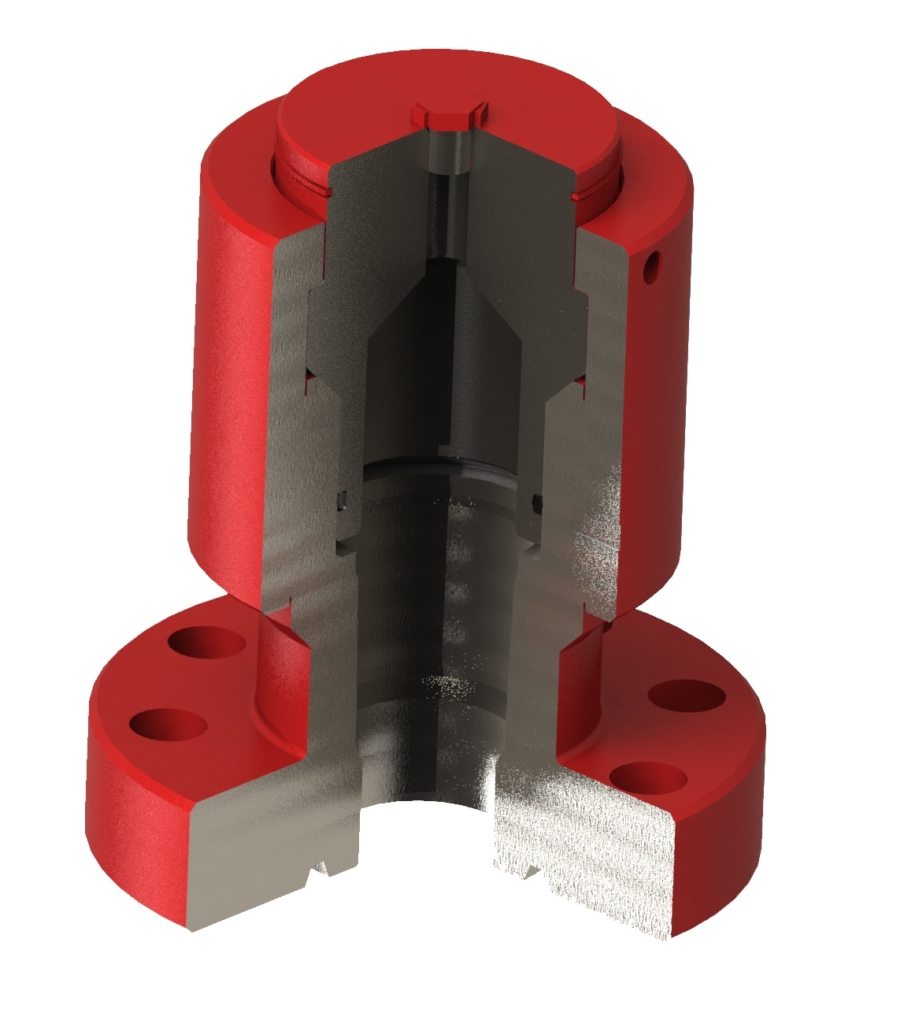 SURFACE SAFETY VALVE WITH HYDRAULIC ACTUATOR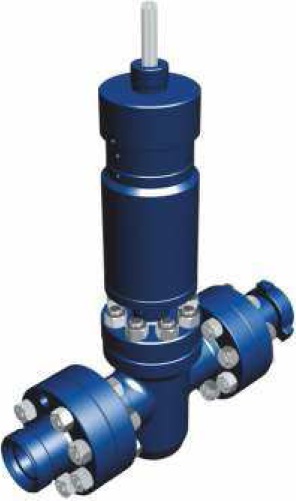 ACT type actuator is a fail close hydraulic actuator. The actuator is operated by hydraulic pressure applied through a static piston on a translating cylinder. The cylinder actuated by hydraulic pressure, compresses the spring by a upper spring retainer plate and directs the bonnet stem and gate into the open position. Should the hydraulic pressure within cylinder/piston be vented, the spring arrangement ensures an instantaneous valve closure regardless of line pressure.
Spring arrangement, piston & hydraulic cylinder are assembled in a single package enclosed in housing by dual spring plates positioned within a flange and a location shoulder. The actuator assembly is easily removable from the valve for maintenance, actuator replacement or transportation. Hexagonal screws on the lower plate & a threaded connection between the travelling cylinder & stem, keep the actuator connected to the valve. Only a wrench is required to remove the actuator from the valve. ESD Control Panels available for actuators upon request.
COMBINATION WEAR BUSHING RUNNING TOOL AND BOP TEST PLUG
Combination Wear Bushing Running Tool and BOP Test Plug
Combination tool runs with pin conn. to install or retrieve wear bushing,  It runs with pin down to seal against ID of bowl for pressure test-up of BOP Stack or Manifold. Drill pipe can be suspended below the test plug, eliminating need to trip all pipe out of the hole. Runs on drill pipe.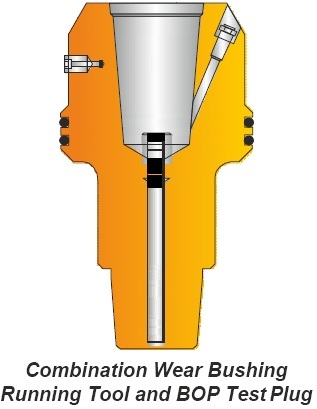 BOP TEST PLUG (PTP)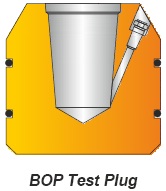 BOP Test Plug (PTP)
Runs on drill pipe or tubing. Lands and seals in bowl of casing heads, casing spools & tubing heads.
FLANGED DRILLING SPOOL
Flanged Drilling Spool (PFDS)
Flanged Drilling Spool are designed to allow unrestricted circulation of mud in the well and provide flexibility in arranging flow line openings in blowout preventor hookups. Studded or open faced ends and outlet connections can be provided. Generally hub of the flanged outlet is welded. Height of spool will vary form 24″ -36″. However spools as per specific need of customers can also be provided.
VALVE REMOVAL TOOL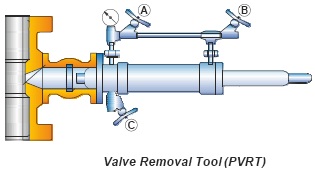 Valve Removal Tool (PVRT)
These are generally pressure-balanced manual hydraulic tool designed for safe and reliable operations in the installation and removal of valve removal plugs, in order to install or replace a well-head outlet valve under pressure conditions. This tool is also designed to accommodate 2 1/16", 2 9/16", 3 1/8" Valve upto 10,000 PSI WP.
Adapter may be provided for use with 1 13/16", 2 1/16", 2 9/16", 3 1/8" flanged valves and screwed end valves. Various sizes of valve removal plug sockets are also provided for the respective sizes of plugs. In the figure, Needle Valve 'A' is located next to pressure gauge on Manifold Bypass assembly and needle valve 'B' is connected to 1/2″ NPT TEE on far end of Manifold Bypass assembly. Needle Valve 'C' is a bleeder valve located behind flange packing.